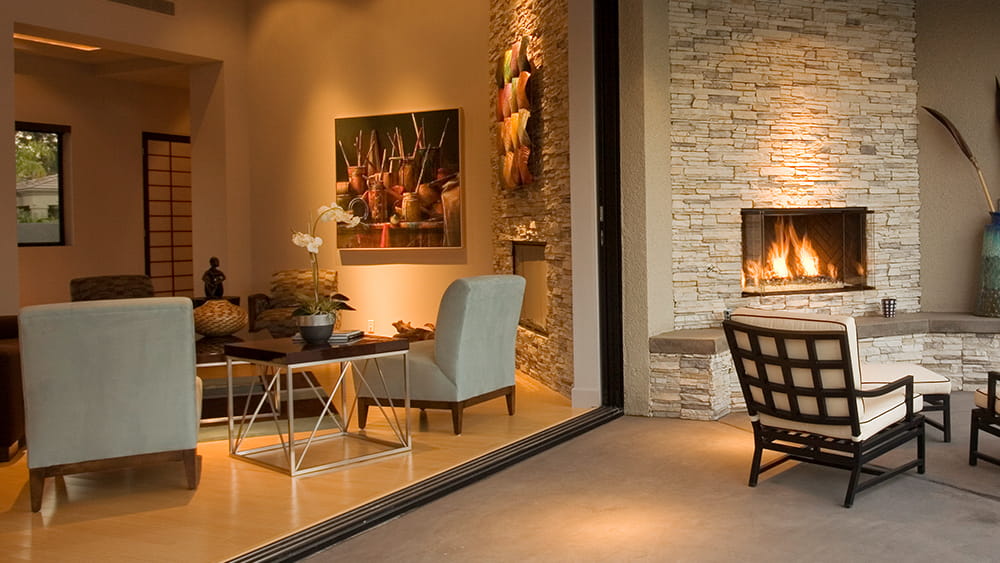 Heating your outdoor oasis
With a natural gas-powered outdoor fireplace, there's really no need to head inside when the breeze picks up or the sun goes down. A fantastic range of fancy flame fires will let you find the perfect fit for your backyard paradise.
Choose a casual rustic look or make an architectural statement with a sleek, contemporary design. Or pick a double-sided design that provides a stunning fireplace for your indoor living area and outdoor fire all in the same stylish unit.
Whatever the look, it's bound to add to the appeal of your home. If it comes time to sell, it could be just the feature that catches a buyer's eye and turns 'like it' into 'love it'.
Clean burning and wet weather tested to guarantee exceptional performance, outdoor gas fires are a smart choice with no mess to deal with. Plus, there's no bottle to fill so you'll be toasty warm for as long as the flame glows.
Heating indoors is also important, find out about heating that'll impress your friends.
Further information
Are you based in Wellington, Taranaki, Manawatu or Hawke's Bay? You may be able to connect your home to gas for free with The Gas Hub.

Enter your address in our gas checker for an instant result on whether you're within the free gas connection range!

We also have a very useful hot water cost comparison tool that compares upfront and running costs within our natural gas network regions. Find out whether a natural gas, electricity, LPG, or solar hot water system could be the right solution for you. Try our hot water cost comparison tool now.
Ready to connect?
Check out the connection process, to know what choices you'll need to make as part of getting connected to natural gas.
Submit your natural gas connection enquiry today. Our customer team will then ring you to ask you a few more questions to complete your application.
Want to know more?
If you've had a good look around our website and still have questions let us know what you'd like more information about.