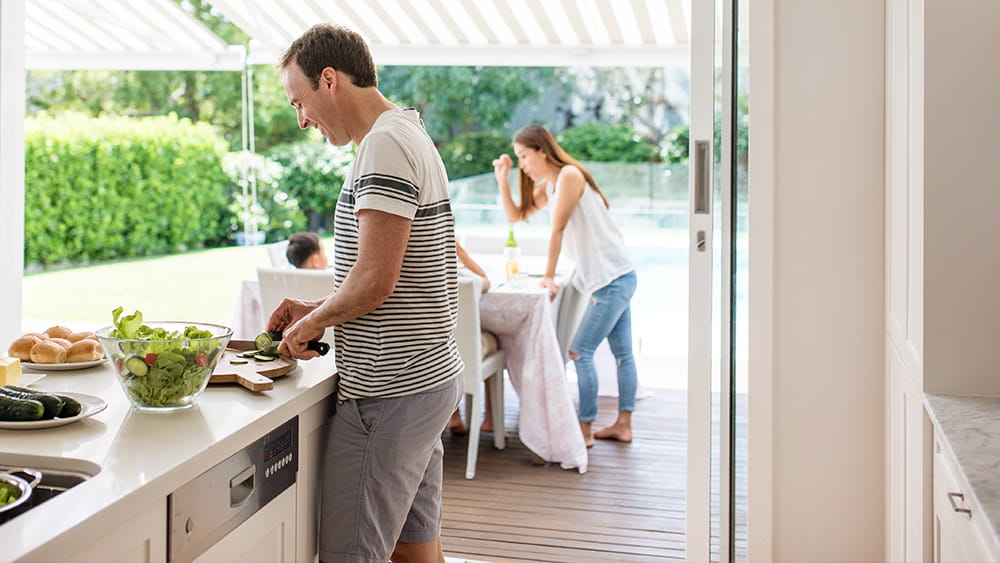 Easy living both indoors and out
Entertaining is something New Zealanders love to do, and especially in the backyard when the weather allows. Natural gas is luxurious and allows you to be the ultimate entertainer no matter the season.
Let your guests lounge about, enjoying the ambiance of your sleek and stunning flame-effect fire, while you take control in the kitchen, Masterchef-style. Cooking with gas of course, because the best chefs prefer the power and precision gas gives them.
Are your guests staying the night? Have confidence knowing everyone will have a hot shower with natural gas continuous flow. Endless hot water really is a must-have to avoid the screams of someone getting a cold shower or needing to stagger shower times. If you've decided a whole-home heating solution is the way to go in your home, why not opt for the flexibility of zoning your central heating. This allows you to switch areas of your house on and off, depending on which rooms require heating, as well as what the temperature preferences are. This works well also with radiators, which can be individually controlled.
When you're ready to move the party outdoors, simply push a button to spark up your outdoor gas fireplace and keep the good times rolling. You'll love that natural gas performs just as well outside your home as it does inside. Your natural gas-powered BBQ will never run out mid-cook, and gas pool and spa heaters round out the ultimate natural gas entertainer's toolkit.
Further information
Are you based in Wellington, Taranaki, Manawatu or Hawke's Bay? You may be able to connect your home to gas for free with The Gas Hub.

Enter your address in our gas checker for an instant result on whether you're within the free gas connection range!

We also have a very useful hot water cost comparison tool that compares upfront and running costs within our natural gas network regions. Find out whether a natural gas, electricity, LPG, or solar hot water system could be the right solution for you. Try our hot water cost comparison tool now.
Ready to connect?
Check out the connection process, to know what choices you'll need to make as part of getting connected to natural gas.
Submit your natural gas connection enquiry today. Our customer team will then ring you to ask you a few more questions to complete your application.
Want to know more?
If you've had a good look around our website and still have questions let us know what you'd like more information about.