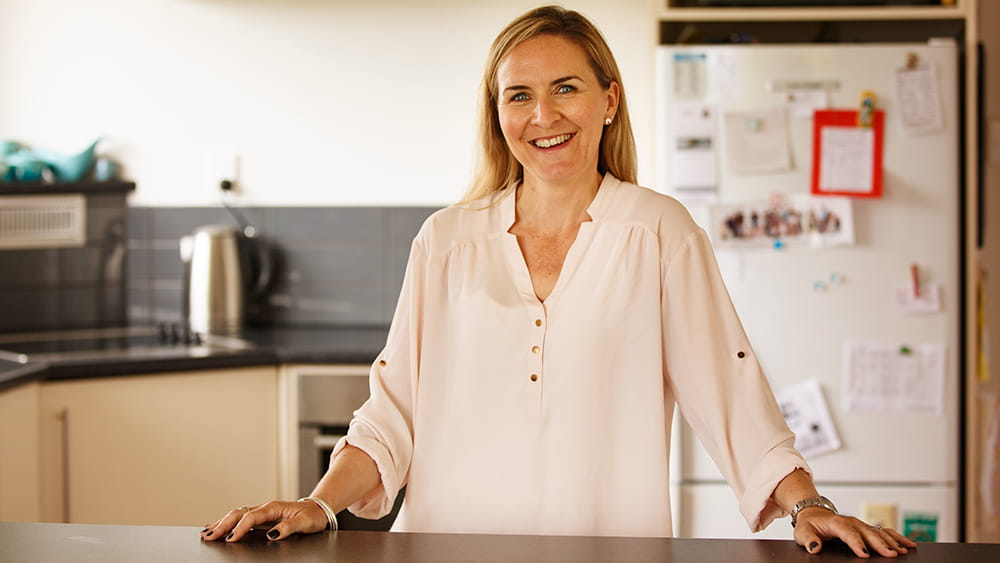 Renovating with gas for family convenience – it's a no brainer
The shower is Steph's happy place, and with an active family, having hot water for showers and the washing machine is a necessity. Read on to find out why Steph thinks it is a 'no brainer' to switch to natural gas, or watch the video below.
Steph's gas story started when the family found a leak in their shower and discovered a full bathroom renovation would be required. They decided to switch to natural gas continuous hot water and remove their electric cylinder. The benefits include no more staggering of shower times or setting a timer so everyone could enjoy a hot shower. Steph told us it is "so nice not having the worry of running out of hot water."
Because her family do a lot of sports and exercise, multiple showers a day are common. Steph reckons she doesn't have to bang on the door so much now to get people out, as with natural gas continuous, the water is endless.
Steph views the switch to natural gas as a "no brainer". She told us that "as well as the whole convenience of having the unlimited hot water, it's also saved us money".
Not only this, they decided that putting gas in was actually future proofing their home. Future renovation plans include a second bathroom, and just a single natural gas continuous water heater can easily connect up to multiple bathrooms.
Steph described the process of connecting to natural gas via The Gas Hub as "really easy" and completed within a few weeks. The best part of Steph's journey is knowing there is unlimited hot water for a long relaxing shower when she wants to escape, even if the washing machine has been busy getting through the mountains of family laundry.
In Steph's words, if you're renovating or replacing an old cylinder "just go gas" – it makes such a difference!
Further information
Are you based in Wellington, Taranaki, Manawatu or Hawke's Bay? You may be able to connect your home to gas for free with The Gas Hub.

Enter your address in our gas checker for an instant result on whether you're within the free gas connection range!

We also have a very useful hot water cost comparison tool that compares upfront and running costs within our natural gas network regions. Find out whether a natural gas, electricity, LPG, or solar hot water system could be the right solution for you. Try our hot water cost comparison tool now.
Ready to connect?
Check out the connection process, to know what choices you'll need to make as part of getting connected to natural gas.
Submit your natural gas connection enquiry today. Our customer team will then ring you to ask you a few more questions to complete your application.
Want to know more?
If you've had a good look around our website and still have questions let us know what you'd like more information about.