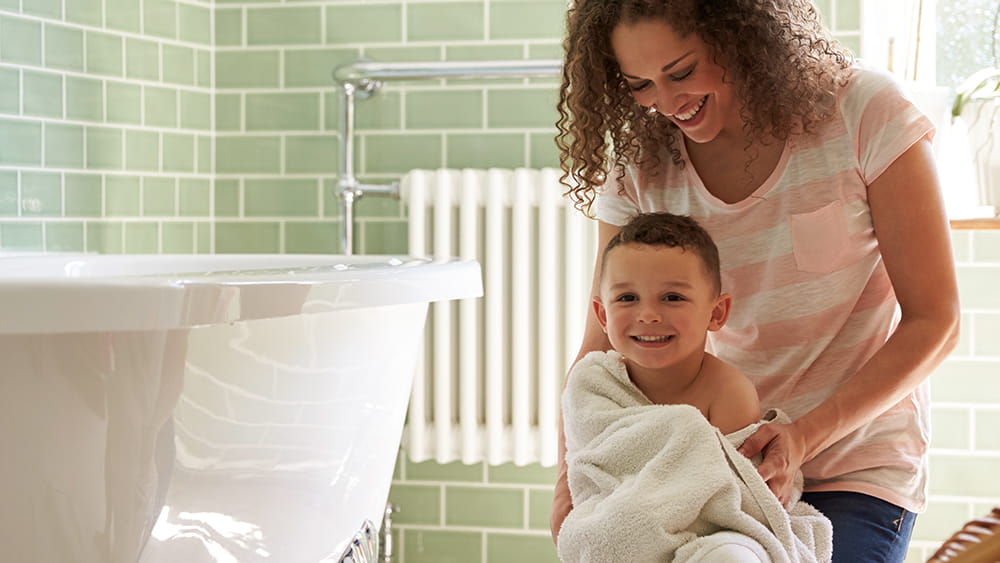 Radiate warmth through your home with natural gas-powered radiators and underfloor heating
Style and safety plus!
Radiators come in a variety of styles, colours and sizes to match your interior or create a focal point. You are not limited to traditional white, with designer options that look like works of art or that completely blend in with the surrounding environment.
A particularly safe option for children, older people and pets, radiators won't burn when touched. They can be an ideal heating solution for asthma sufferers as they do not blow air with dust particles around your home. As with all types of flued gas heating, radiators will not add dampness to your home, leaving it drier and healthier.
Thermostat control and programmable timers allow a heating schedule that suits your household with the push of a button.
One more key benefit – they're silent to run!
Heat from the ground on up
A little bit of luxury for those twinkle toes, underfloor heating powered by natural gas is cosy and an essential for many new build homes.
Heating under your floor is most effective in kitchens and bathrooms with tiles or other hard floor coverings. Not only will you enjoy premium comfort from the ground up, being underfloor, this type of heating gives you 100% complete freedom on where you place your home furnishings!
Further information
Are you based in Wellington, Taranaki, Manawatu or Hawke's Bay? You may be able to connect your home to gas for free with The Gas Hub.

Enter your address in our gas checker for an instant result on whether you're within the free gas connection range!

We also have a very useful hot water cost comparison tool that compares upfront and running costs within our natural gas network regions. Find out whether a natural gas, electricity, LPG, or solar hot water system could be the right solution for you. Try our hot water cost comparison tool now.
Ready to connect?
Check out the connection process, to know what choices you'll need to make as part of getting connected to natural gas.
Submit your natural gas connection enquiry today. Our customer team will then ring you to ask you a few more questions to complete your application.
Want to know more?
If you've had a good look around our website and still have questions let us know what you'd like more information about.