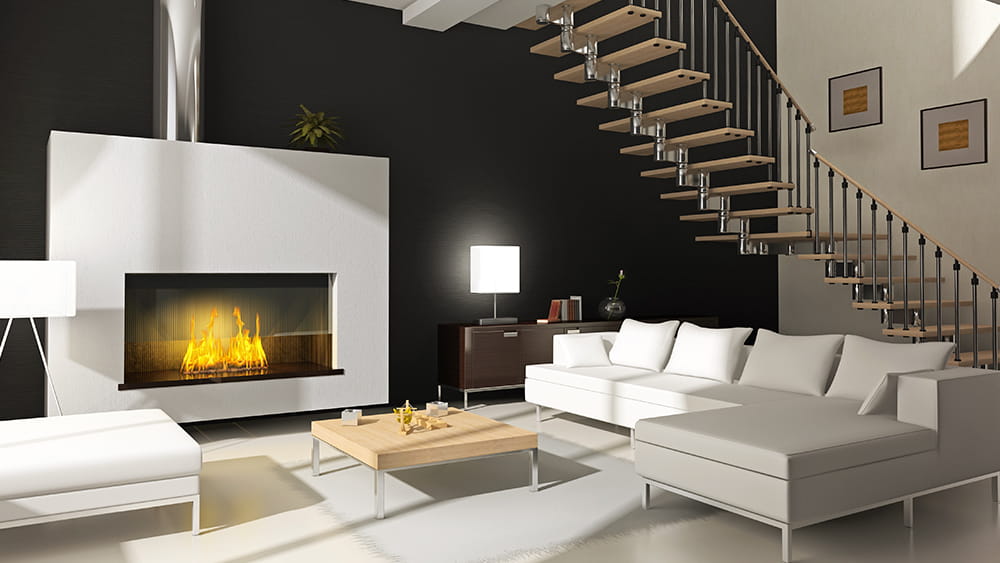 Get a gorgeous gas fire and leave the wood stacking to your neighbours
Many modern gas fires have 5-star efficiency ratings, so they cost less to run. Plus, if you're already connected to natural gas for hot water, the per kilowatt hour (or energy unit cost) of heating your home with a gas fireplace is much cheaper than electricity.
Gas fires are flued to the outside, keeping the air in your home clean, healthy and dry. They burn cleanly – you won't see thick plumes of smoke filling the atmosphere, so gas fires don't contribute to smog.
Get real flames, real heat with no fuss and no mess, just the power of natural gas combined with push-button control at your fingertips.
Complement your style
Choose from utterly indulgent wide view flames to effortlessly efficient models that can be freestanding, wall mounted or fitted into an existing fireplace. There is a size and a design option for every home and every budget - whether you love the traditional wood fire look, or a sleek, modern fire with a shiny crystal bedding.
Not only this, some gas fire manufacturers offer the ultimate in luxury with highly customisable options, give you a bespoke fire like no other.
Gas fires can heat a room quickly and some bigger systems can be ducted. This means they act not only as a luxurious fire with flickering flames, but the warm air is pushed around your home like central heating.
Make life easier with technology
As well as looking gorgeous, modern gas fires – some of them made right here in New Zealand – incorporate some fantastic technology. Wifi control, smartphone apps and programmable timers put you firmly in the driving seat. Set the fire to turn on a little before you get home and walk into warmth.
Healthy and safe, gas fireplaces are flued to the outside, keeping the air in your home clean and healthy and they also have child-safe locks.
On the topic of flues, many clever systems allow the flue to run up, down and horizontally. This allows the flexibility to make your fire the focal point of your room – wherever you want that to be.
Who's got the time to be chopping wood, stacking wood, drying wood, on repeat? It's always on the coldest, wettest and windiest nights that you run out of wood and have to do that mad dash to the stack and bring some more in. Save your time and effort, push a button instead, it's that easy!
Further information
Are you based in Wellington, Taranaki, Manawatu or Hawke's Bay? You may be able to connect your home to gas for free with The Gas Hub.

Enter your address in our gas checker for an instant result on whether you're within the free gas connection range!

We also have a very useful hot water cost comparison tool that compares upfront and running costs within our natural gas network regions. Find out whether a natural gas, electricity, LPG, or solar hot water system could be the right solution for you. Try our hot water cost comparison tool now.
Ready to connect?
Check out the connection process, to know what choices you'll need to make as part of getting connected to natural gas.
Submit your natural gas connection enquiry today. Our customer team will then ring you to ask you a few more questions to complete your application.
Want to know more?
If you've had a good look around our website and still have questions let us know what you'd like more information about.