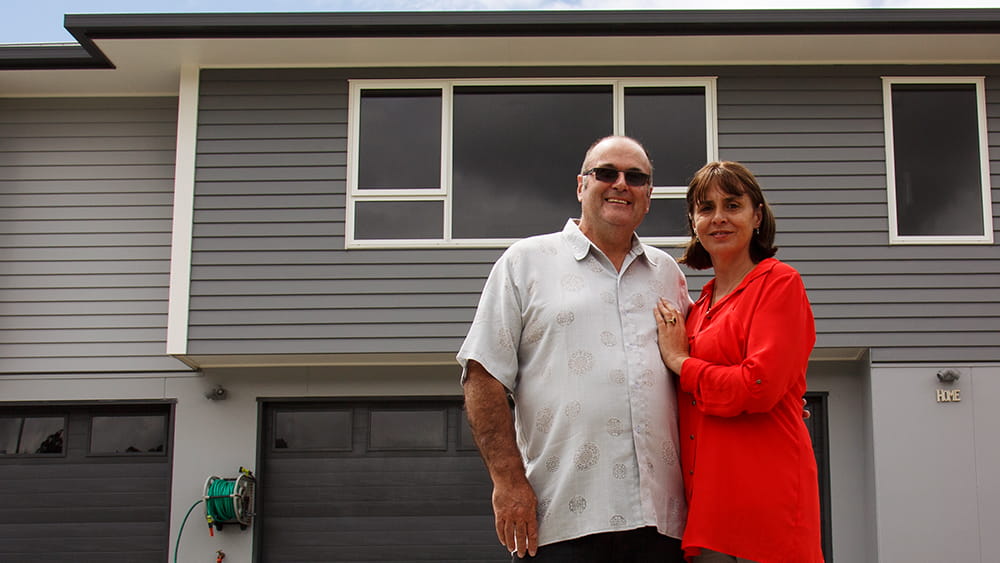 Rebuilding a safe and warm home that feels better all over with gas
Have a listen to David and Leone's gas story, it's pretty powerful. They rebuilt after a devastating blaze started by a wood burner fire destroyed their family home. It all started one Queens Birthday weekend with a phone call from a neighbour asking "where are you? Your house is on fire!".
Read about how much easier their life is now they have natural gas powering their heating, hot water and cooking at home, or watch the video below.
David and Leone had stoked up their wood burner with logs before heading out to dinner that night and returned in a rush to find their whole home going up in flames.
Devastated their family home had been destroyed, they wanted to rebuild on the same piece of land – but on their terms. The natural choice to make their new home feel better all over was natural gas-powered central heating, hot water, and cooking.
David says the ducted central heating system works brilliantly for them as they "just flick the switch on the wall and the house starts heating within minutes." Nice and really easy, they have a vent in every room and just heat the parts of the house they use. David also loves the time and effort saved by not chopping wood any longer, saying "particularly when you're getting a bit older, you don't want to be swinging an axe around outside for 2-3 hours at a time.
The O'Kanes looked at hot water heating options as previously they had an electric cylinder that ran out of hot water. Their decision to choose gas-powered hot water was easy, with the drawcard of endless hot showers being a winner - especially with family staying over. They told us their son still has a half hour shower when he comes to stay, but the O'Kanes no longer worry about being first up to get the hot shower, as it's now a hot one every time.
Maximising the benefit of their gas connection, the O'Kanes have also put in a spa pool and they enjoy cooking with gas indoors. David loves the instant heat and control of gas cooking compared with electricity which takes a while to warm up and cool down again.
Natural gas has an outstanding safety record in New Zealand. It's one of the safest energy sources for around your home, especially with smart appliance technology and features.
All gas appliances sold in New Zealand have to be installed and certified by a gasfitter – it's the law. Gasfitters are licensed and follow strict safety standards to ensure the safe and correct installation of appliances in your home.
The O'Kanes now have peace of mind and are much more comfortable at home. Leone on natural gas in their home "it's made life easier". Natural gas is the natural choice to make a new home feel better all over.
Further information
Are you based in Wellington, Taranaki, Manawatu or Hawke's Bay? You may be able to connect your home to gas for free with The Gas Hub.

Enter your address in our gas checker for an instant result on whether you're within the free gas connection range!

We also have a very useful hot water cost comparison tool that compares upfront and running costs within our natural gas network regions. Find out whether a natural gas, electricity, LPG, or solar hot water system could be the right solution for you. Try our hot water cost comparison tool now.
Ready to connect?
Check out the connection process, to know what choices you'll need to make as part of getting connected to natural gas.
Submit your natural gas connection enquiry today. Our customer team will then ring you to ask you a few more questions to complete your application.
Want to know more?
If you've had a good look around our website and still have questions let us know what you'd like more information about.