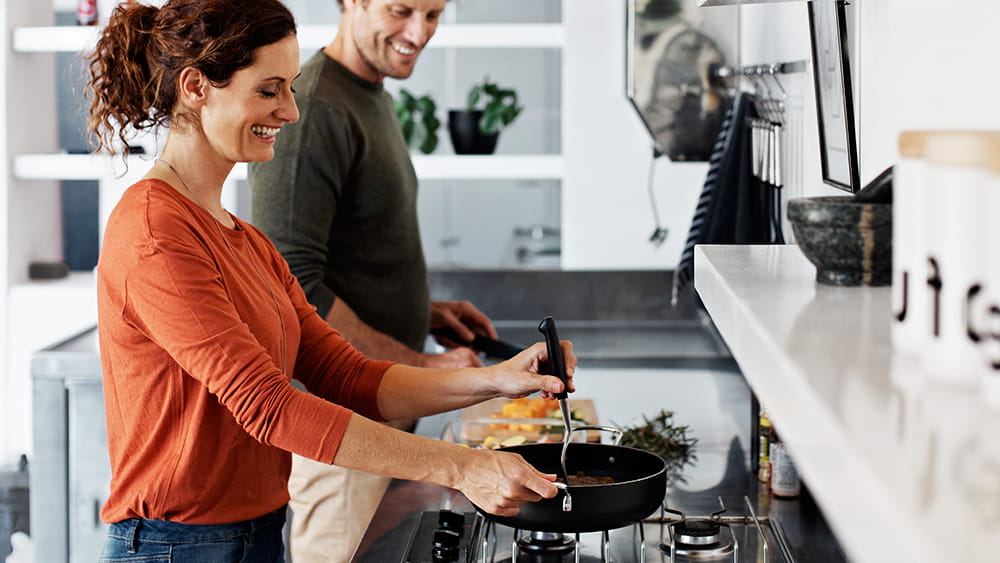 Clever kitchen creations
Embrace the power of natural gas in your kitchen and become the culinary guru you've always dreamed of being. Gas hobs are fast, hot, and precise. Cook at low temperatures for the perfect melted chocolate, or crank it up instantly to sear a succulent steak.
The power and performance of natural gas is matched by the beautiful design of modern gas appliances. Stylish cook tops look stunning and are a piece of cake to clean. As part of a kitchen build or home renovation, including gas cooking in your plans is easy and a must-have for many.
You might also be surprised to know that if you already use natural gas in your home, it costs about 50% less than cooking with electricity.
Looking at re-doing your kitchen? Renovating or building new is the perfect opportunity to create the kitchen of your dreams and switch to natural gas for all of your cooking needs. Cook your old favourites or test out newfound culinary talents on gas hobs; they're fast, hot and precise.
The beautiful designs of modern gas appliances match the power and performance of natural gas. Contemporary cooktops give your kitchen a stylish revamp and better yet, are a piece of cake to clean and maintain. Including gas cooking in your build or renovation plans is easy and a must-have for many.
Further information
Are you based in Wellington, Taranaki, Manawatu or Hawke's Bay? You may be able to connect your home to gas for free with The Gas Hub.

Enter your address in our gas checker for an instant result on whether you're within the free gas connection range!

We also have a very useful hot water cost comparison tool that compares upfront and running costs within our natural gas network regions. Find out whether a natural gas, electricity, LPG, or solar hot water system could be the right solution for you. Try our hot water cost comparison tool now.
Ready to connect?
Check out the connection process, to know what choices you'll need to make as part of getting connected to natural gas.
Submit your natural gas connection enquiry today. Our customer team will then ring you to ask you a few more questions to complete your application.
Want to know more?
If you've had a good look around our website and still have questions let us know what you'd like more information about.